Our Staff
Currently our staff includes every member of the group. We will hopefully be electing officers and commitee chairs at our next few meetings as the needs and focuses arise.
The man who gathered us all together:
Ralph Nader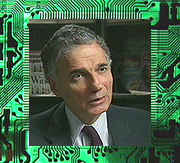 Ralph Nader is the perpertual Green Party Nominee for President and his campaign it the main thing that has brought us all together!